Digital Pianos and Portable Keyboard near Yorba Linda
Music Maker an authorized Yamaha dealer for Digital Piano and Portable Keyboard. Music Maker is also an authorized Yamaha Music Education.
Portable Keyboard, Digital Piano and Acoustic Piano.
Portable Keyboard:
Portable.
Usually weigh less than 20 lbs. and have a smaller range, with 49 and 61-key models.
Keyboard stands may be offered with the instrument at an additional cost, but they can be played table-top.
Are also easily storable.
Notoriously light and plasticy. Not too touch-sensitivity.
Portable/Digital Keyboard: Yamaha YPT-255
Digital Piano:
May only offer a few voices, and might not contain any songs or rhythms at all. These voices usually sound pretty genuine (depending on brand and quality) and tend to be the staples: grand piano, harpsichord, strings, and jazz or pipe organ. Abridged sample songs may be included to preview these sounds.
Are not unstorable. Weigh from 25-60 lbs., and usually come with 61, 76, or 88 keys.
Somewhat touch-sensitive.
Digital Piano-Yamaha DGX-660
Acoustic Piano:
One sound.
Very Touch-sensitive, original piano instrument.
For more information, Yamaha describe and differentiate the products as digital piano and portable keyboard.
How do you decide?
Budget.
Age.
Relocation factor.
For Portable Keyboard and Digital Piano, please contact Music Maker an authorized Yamaha Dealer.
For Piano, please choose the following Yamaha Authorized Dealers:
HANMI PIANO 7942 GARDEN GROVE BLVD GARDEN GROVE, CA 92841 Tel (714) 891-5551
DENNIS HAGERTY KEYBOARD CONCEPTS 18285 EUCLID AVE FOUNTAIN VALLEY, CA 92708 Tel (714) 544-0088
SOCAL PIANOS 740 SO ROCHESTER AVE SUITE B ONTARIO, CA 91761 Tel (909) 605-6457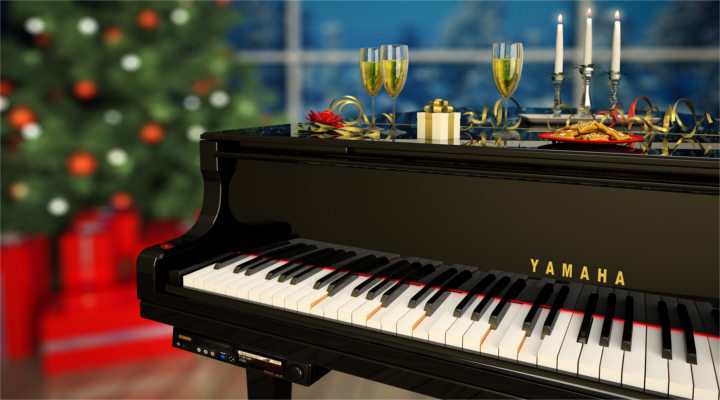 Learning to play the piano can be fun and one of the most fundamentally rewarding ways to start the study of music. Our Music School has structured its lessons in a standardized way that makes music not only easier to learn, but more enjoyable as well. As a student in the Yamaha Piano Course, you will be learning from our exclusive Pianoforte curriculum developed by the  Yamaha Music Foundation.
Our proven syllabus goes beyond the traditional piano lesson to help students learn technique, repertiore, keyboard harmony, duets and improvisation. Lessons will also include other traditional methods carefully chosen by the teacher to meet individual goals and needs.
Lesson include:
Piano Forte Books
Repertoire
Scales & Arpeggios
Sight Reading
Aural Training
Theory of music
Solfege, Finger Exercises, & Etudes
Improvisation & Keyboard Harmony 
Our retail store also offer piano books, classical, jazz and others.
Our faculties
Teaches Harp, Piano, and Voice

Associated Board of the Royal Schools of Music (ABRSM)
Certified Yamaha Intructor

Master of Music degree in Piano Performance: National Music Academy Prokofiev

Read More

Josh Choi

Teaches Piano

Piano Teaching program: Fullerton College
Bachelor Degree: University of California, Riverside

Magdalena C

Teaches Piano, Associated Board of the Royal Schools of Music (ABRSM), Royal Conservatory of Music, Music Teachers Association of California (MTAC)

Piano Teaching program: Fullerton College
Bachelor Degree: California State University of Long Beach

Miwha Choi

Teaches Piano, Voice

Doctoral in Orchestra conducting: World Mission University, Los Angeles
Master in Organ: University of Houston, Houston TX
Master in Music Piano: Chong Shin University, Seoul

Teaches Woodwinds (Saxophone, Flute, Clarinet), brass, and piano.

Master of Arts in Education degree: Azusa Pacific University
Bachelor of Music in Teachers Credential: California State Los Angeles

Read More

Teaches Strings (Cello, Violin, Viola), Piano, & Guitar

Bachelor of Music degree: Chapman University
San Francisco Conservatory of Music,
Emphasis in Cello Performance

Read More

Teaches Piano
Music Teachers Association of California (MTAC)
Master of Piano Performance, California State University, Northridge
Bachelor of Musicology, Shanghai Normal University

Read More

Sehee Lee

Teaches Piano

Bachelor of Arts degree: Chongshin University of Arts
Bachelor of Music degree: Bethesda University Jazz and contemporary music emphasis

Jenna Santa Maria

Teaches Flute, Percussions, Piano, Voice

Bachelor of Music in Music Education: Biola University

Veronica Shin

Teaches Piano, Voice

Master of Music and Vocal Performance: Azusa Pacific University, Azusa
Bachelor of Music degree: EWHA University, Seoul

Lynnda Snyder

Teaches Piano & Musical Theater

Master of Fine Arts degree: Claremont Graduate University
Bachelor of Arts degree: Chapman University

Teaches Piano

Music Teachers Association of California (MTAC)
Master of Music degree: University of Rochester, Eastman School of Music
Bachelor of Music degree: California State University, Fullerton

Read More

Casey Yu

Teaches Piano, Music Teachers Association of California (MTAC), Early Child Education Music

Bachelor of Arts degree in Music: Bethesda Christian University
Bachelor of Arts degree in Child Studies: Kosin University